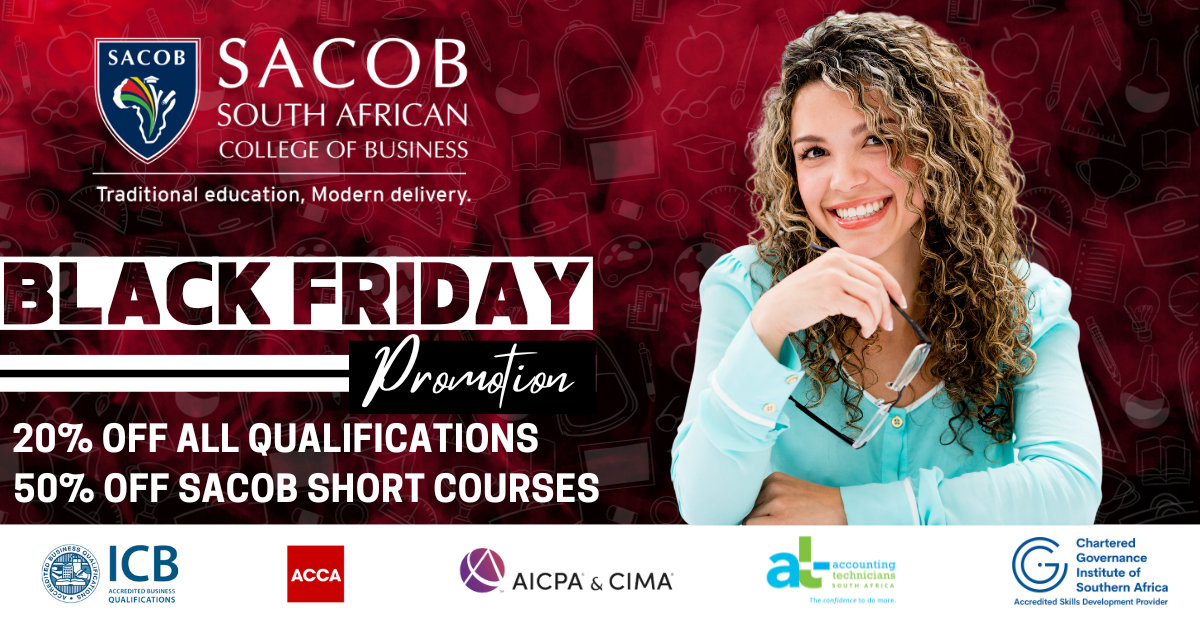 OUR BIGGEST BLACK FRIDAY PROMO EVER!
20 – 30 November 2023
GET 20% OFF ALL QUALIFICATIONS
PREMIUM OFFERINGS
SINGLE SUBJECT REGISTRATIONS AVAILABLE TOO!
Premium Subjects Include:
– Textbooks
– Introduction Video
– Exam Info
– Q & A Platform
– Concept Videos
– Forums
– Exam Timetable
– Study Schedule
– Multiple Mock Exams & Solutions
– LIVE Classes – Where your lecturer takes you through all the concepts face to face via Zoom
– Recording of the LIVE Webinars
– Quizzes
– Exam Walkthrough (Pre-recorded)
GET 50% OFF OUR SACOB SHORT COURSES
ONLY R2800 (WAS R5600) PER COURSE
Short Courses Include:
This includes all your textbooks.
Lecturer Support via Email and Telephone.
A Student Question and Answer Platform.
Lecturer/Concept videos where the key concepts are explain to you.
Quizzes and Assessments with feedback.
SACOB Student Forum where interactive discussions happen between your peers, lecturers and
course coordinators.
Here is a list of all of the Short Courses on offer: