What is RPL?
RPL stands for the Recognition of Prior Learning.
Recognition of
Prior
Learning
This is a system of processes that are conducted by an accredited learning body assesses an individual's previous learning experiences with a set metric of standards. The previous learning and experiences acquired are then evaluated and this gives you an opportunity of understanding your level of expertise within your specific field of experience and prior learning. This helps examining bodies, employers, workshops and agencies to adequately place you in the learning environment of your level with regards to your prior experiences and achievements, whether they be chartered or informal experiences.
This RPL process makes it possible for people with informal experiences to gain formal recognition of their skills and competencies in order to advance their academic careers. Helping people forward their academic careers is why we at SACOB the South African College of Business are in business! We aim to help you towards you academic success using facilities such as RPL.
SACOB subscribes to the principles of lifelong learning and the role the recognition and assessment of prior achievement and learning plays in the promotion of lifelong learning, professional growth and career advancement
In applying the above, the SACOB supports the principles of lifelong learning as it brings with it access into learning and the mobility between institutions of learning and programmes at the various levels of the NQF.
Directly from SAQA South African Qualifications Authority:
" The aim is to make it possible to obtain formal recognition for knowledge gained throughout life, such as in workplaces and own reading or experiences. The RPL process also entails providing support to a candidate to ensure that knowledge is discovered and displayed in terms of a relevant qualification registered on the National Qualifications Framework (NQF). "
Click here to read more about the terms used in RPL, in the RPL related terms guide.
SACOB Recognises Prior Learning
SACOB recognises prior learning in the case of students applying for admission into a programme not previously having obtained any formal qualification at a higher education institution. Such students are therefore those who apply for admission into the programme based on industry experience and/or the successful completion of a variety of short learning programmes, informal skills programmes or incomplete qualifications.
Recognition of prior learning will in the institutional academic framework only be applied to students seeking entrance into the Higher Certificate programme.
Prior learning will be recognised to establish whether candidates are competent in the following areas of applied competence meeting the requirements for successful completion of the Higher Certificate.
foundationalcompetence: understanding what they are doing and why they are doing it, that is, what theoretical knowledge they have;
practicalcompetence: ability to perform a set of tasks and making decisions;
reflexive competence: ability to integrate or connect knowledge and skills so that learning is achieved from actions and the ability developed to adapt to changes and unforeseen circumstances, e. the transfer of learning from one context to another.
What is the value of RPL?
This RPL Process will help you focus your efforts at furthering your career and allow you to be acknowledged for the skills you have rather than having to be reassessed in fields you already have adequate expertise and knowledge in. This is very helpful when enrolling for learning programmes, as you can save on money and time by not writing the subjects you are already adequately qualified for. This RPL result gives a good benchmark for your current competencies, these results are mediated assessed and are analysed to give you best reflection of your past learning experiences and qualifications.
The Official SAQA South African Qualifications Authority definition of this process is " The Recognition of Prior Learning (RPL) is a process through which formal, non-formal and informal learning are measured, mediated for recognition across different contexts and certified against the requirements for credit, access, inclusion or advancement in the formal education and training system or workplace. (Source: National Policy for the Implementation of RPL: par 30)."
In terms of the recognition of prior learning and assessment of prior achievement, the SACOB is guided by the Department of Higher Education and Training as well, where applicable, the relevant professional body's regulations and the criteria of the Higher Education Quality Committee (SACOBQC).
SACOB facilitates the recognition of prior learning and assessment of prior achievement by means of the credit accumulation and transfer (CAT) system, which takes the design applicable to a system of fair assessment of a student's potential to succeed at the level of intended registration.
In order to enrol for some learning programmes in South Africa a previous level of knowledge is required for admission, here your previous learning experiences are measured against the learning outcomes of these programmes and exemptions are then deemed necessary for the portions of the new learning material you have already acquired through your past learning experiences. This enables you to write exams for only the subject matter you have no experience in. This saves you in the long run as you can properly focus on the areas you need development in most, to perform your job description to the best of your capabilities.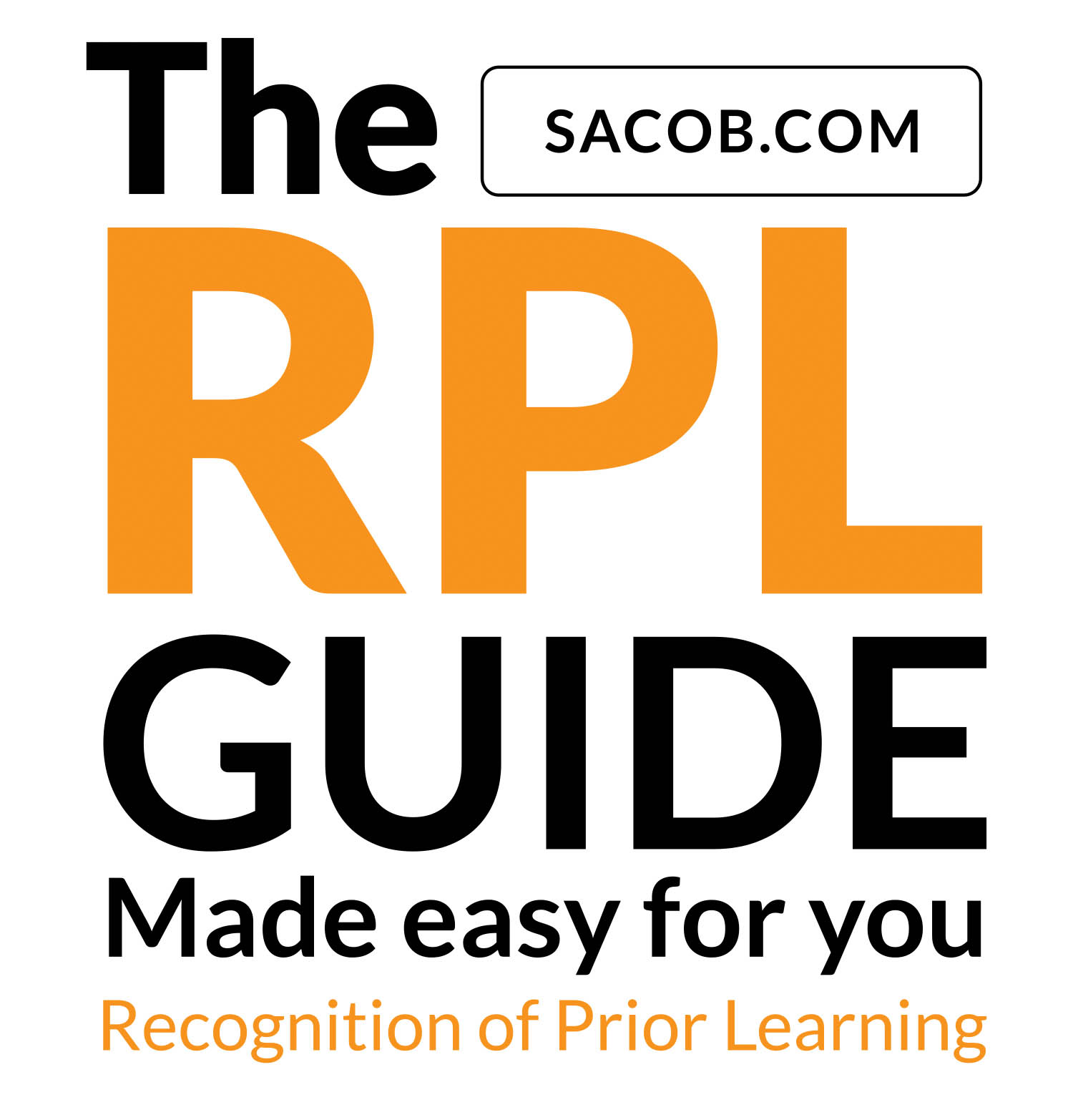 GUIDELINES FOR RECOGNITION OF PRIOR LEARNING (RPL) IN SOUTHERN AFRICA.
Why should you undergo the RPL process?
You are looking to  gain a formal qualification of the competencies and practical skill-sets you have accumulated in your field of work, in order to enable you to become a candidate for a promotion.
You are looking to enable yourself to close the divide between informal, non-formal prior learning and formal learning.
You are looking to be able to access to a higher mode of study despite the formal entrance requirements.
Job seekers and Employment agencies in South Africa look out for people who have been through the RPL process and it saves precious administration time in trying to coordinate the best possible direction for somebody with informal and accumulated experiences without the appropriate paperwork to back up their learning experiences.
For more information regarding the RPL process visit this link for the official SAQA page: Offical South African RPL site
For more information about the ICB RPL process please click here.
How do I go about applying for an RPL? RPL Application
Do any of the following queries sound like your situation? Based on an actual customer conversations:
Customer:
"I would like to find out whether you give credits for number of years worked and then continue to work towards a qualification…"
"I have more than 15 years experience, but want to get a qualification. I have accounting in matric and worked in finance/payroll."
"I have about 30 years financial working experience but no formal education after high school. I am interested in the business management course. Please contact me."
"I would like to study an Office administration course. I only have grade 11 but I have 6 years experience in a similar field. Would I still qualify?"
SACOB Reply:
"This decision would be entirely up to your examining institute ( ICB,CIMA,CSSA,ACCA,CTH, ITH or CFA) . This means that you will need to make a formal application of Recognition of Prior Learning (RPL) in order for them to review your application."
Customer:
"Please advise how I go about doing that?"
SACOB Reply:
"Can we send you the guidelines and process via email for you"
" It is likely that you would then meet entry as we can look at special circumstances for entry. I will email you the brochure of the ICB information, can you then revert with a copy of your ID and CV? We would then confirm entry based on CV and your work experience"
Customer:
"Yes Please, Waiting for your email, Thank You"
"Okay then I will do so. Thank you"
Taking the above definitions and situations into consideration, the process of the assessment of prior achievement consists of the following steps:
identification of the students' prior applied competencies;
alignment of the students' prior applied competencies with the outcomes and assessment criteria of the programme the student is applying for admission;
the assessment of the students' applied competencies of the assessment criteria not met during the alignment process to determine the admission strategy in terms of these credits; and
upon successful demonstration of all the required competencies under the assessment conducted, the granting of credits against the programme the student is applying for admission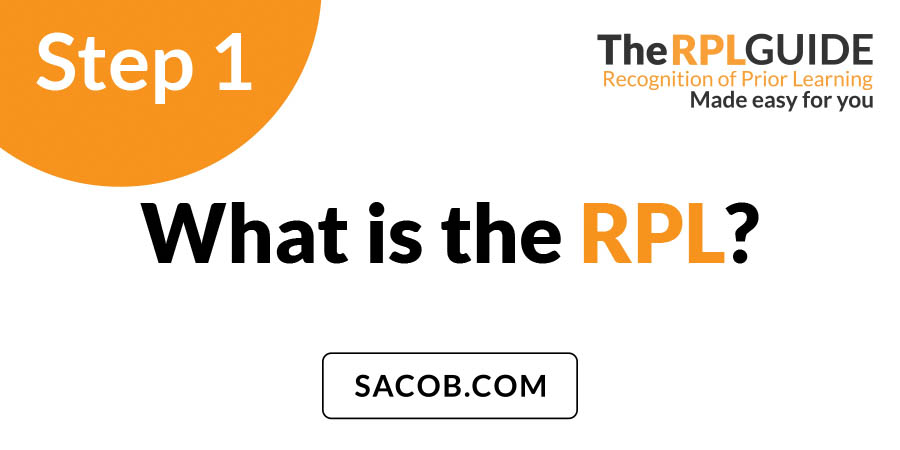 1.What is the RPL?
We have made the first step easy for you, if you have reached this you should be well equipped with the knowledge of what the RPL is and why you need to make use of the RPL process.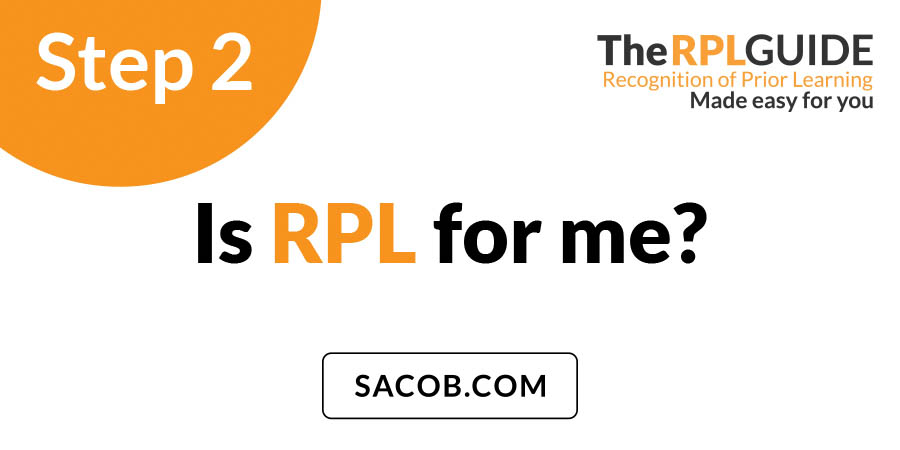 2.Is RPL for me?
The second step in the RPL process is to determine if you need to undergo the RPL process. You should ask yourself the following questions:
Are you looking to study for a qualification but have no formal training behind your name?
Do you require some form of documentation of your work experience?
Have you been working in the field without certification?
Do you have a minimum of NQF level 4 Qualification?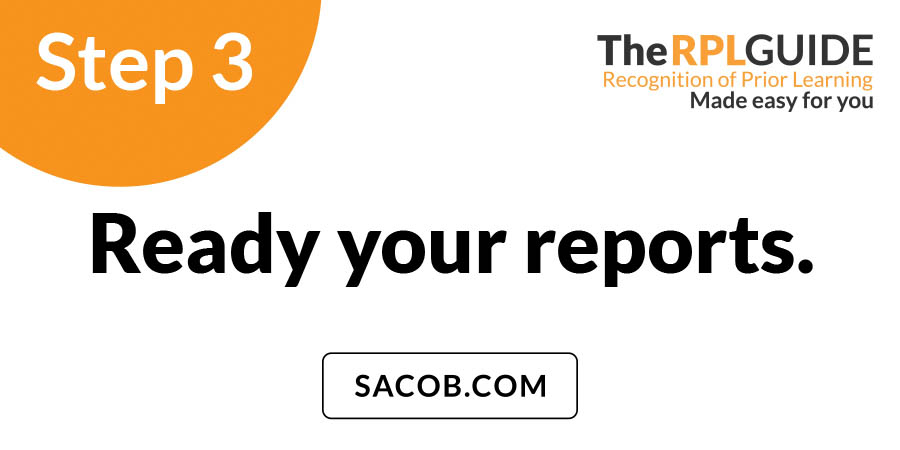 3.Get your documents ready
Step Number Three Involves accumulating all of the relevant paperwork necessary for the RPL process. A basic is to have a positive certified copy of your ID document or Passport. Your Matric certificate and your previous results transcripts, as well as any certificates you may have acquired along the way.
A CV is a key document which most people will have which contains all of these reports.
Additional compulsory evidences will be specified by your learning provider.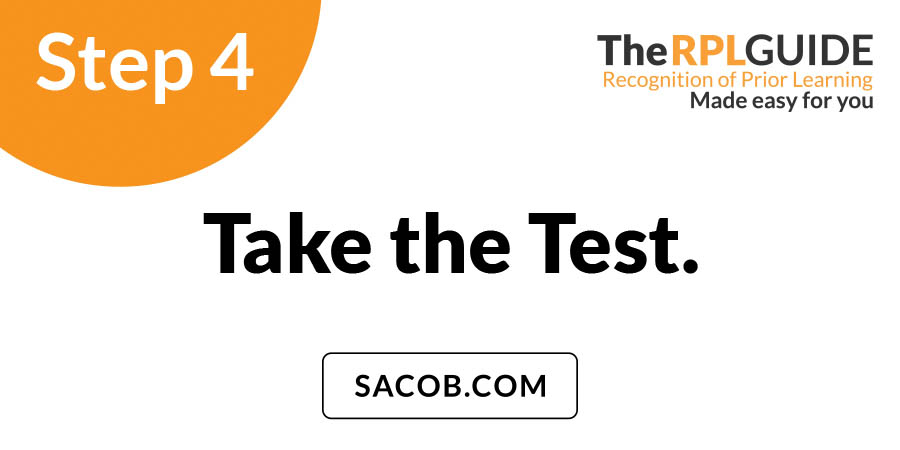 4.Take the RPL Assessment.
The fourth step is for you to take an assessment which quantifies your learning experiences into a score which is compared against industry standardised criteria by your examining body or RPL practitioner.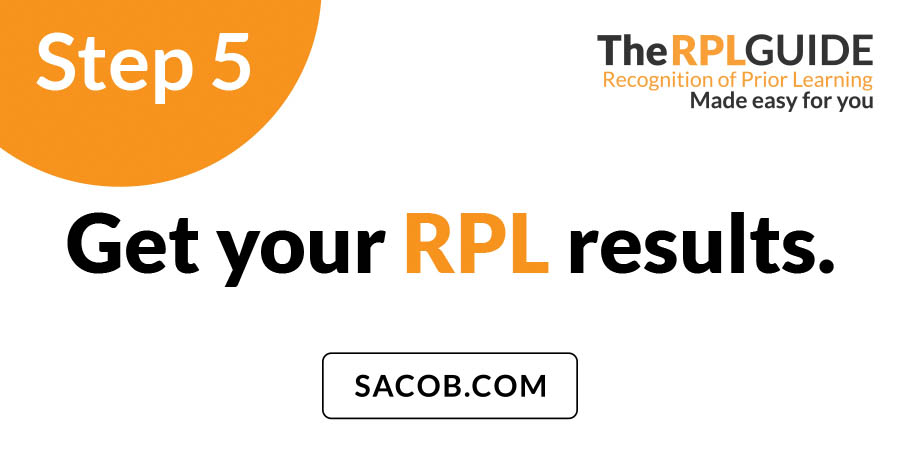 5.Receive your RPL Application results
The Final step in your RPL registration is to receive the results of your RPL assessment of prior learning.You have now completed the practical and knowledge level RPL assessments and have a record of your previous learning experiences in a nationally recognised ranking. This can be used to gain entry to formal education learning programmes and you can now be eligible for exemptions in the learning programme of your choice.
From the CSSA (Chartered Secretaries Southern Africa) 
" RECOGNITION OF PRIOR LEARNING (RPL) is a way of giving people an opportunity to receive recognition for their skills and knowledge, no matter how, when or where they were gained.
RPL can be granted on the basis of EXEMPTIONS which are granted on the basis of formal studies completed in a related course. The module may differ but the outcomes are the same as those in the module for which the exemption is granted.
RPL can be granted on the basis of WORK AND LIFE EXPERIENCE. Applicants are required to provide details on work experience (both paid and unpaid work) and life experiences (including hobbies, leisure and parenting etc). Relevant prior learning will be matched against the specified learning outcomes of the course.
MODULES – A module refers to a component of a qualification (traditionally known as subjects). In order to save costs to yourself, you should apply for RPL only at the highest level possible. For example, if you have completed Financial Accounting 3, you do not need to apply for RPL for Financial Accounting 1 and 2. "
Is an RPL and and Exemption the same thing?
Not exactly but they are similar, read this page for all of the information regarding Exemptions and subject exmeption applications for all of the institutions we offer at SACOB.
Please note regarding RPL. Important RPL guidelines.
Please note that all RPL procedures are weighed against the examining bodies qualifications and certifications, each will have to contacted individually regarding the requirements. Your course advisor will be happy to facilitate this process for you regarding your specific Instution, whether it be ICB,CIMA,CSSA,ACCA,CTH, ITH or CFA.
The assessment of prior achievement will be conducted in circumstances exact to the assessment context outlined in  the Policy Framework  Manual for main and supplementary assessments.
All assessments of prior achievement will be moderated in the same manner as main and supplementary assessments conducted upon completion of a learning programme and collaboration project for which students have enrolled for at the SACOB.
Assessments of prior achievement will also be eligible for moderation by the Programme Coordinators. The same moderation policy applicable to students  registered in the formal programme offered by the institute will be applied.
The Assessment Dispute policy is not applicable to the assessment of prior achievement and recognition of prior learning.
The assessment of prior achievement and recognition of prior learning is  governed by  the Assessment Records Management Policy as well as the Assessment Integrity Policy governing the assessments of students registered for formal programmes at the SACOB.
Results of the assessment of prior assessment and recognition of prior learning are released in the same manner as those of students registered for formal learning programmes at the SACOB.
All conducts assessments of prior achievement and recognition of prior learning are nested in the Student Advancement and Progression Policy as well as the Credit accumulation and Completion of Programme Policy.
All recognition of prior learning results will also be subject to moderation and verification by the Programme Coordinators prior to the admission of a student into a programme.
Fees, outlined in the Study Guides will be payable for the assessment of prior achievement and recognition of prior learning.
Students should during the assessment of prior achievement and recognition of prior learning, achieve the same competency levels as required from students registered in the formal programme offered by the SACOB.