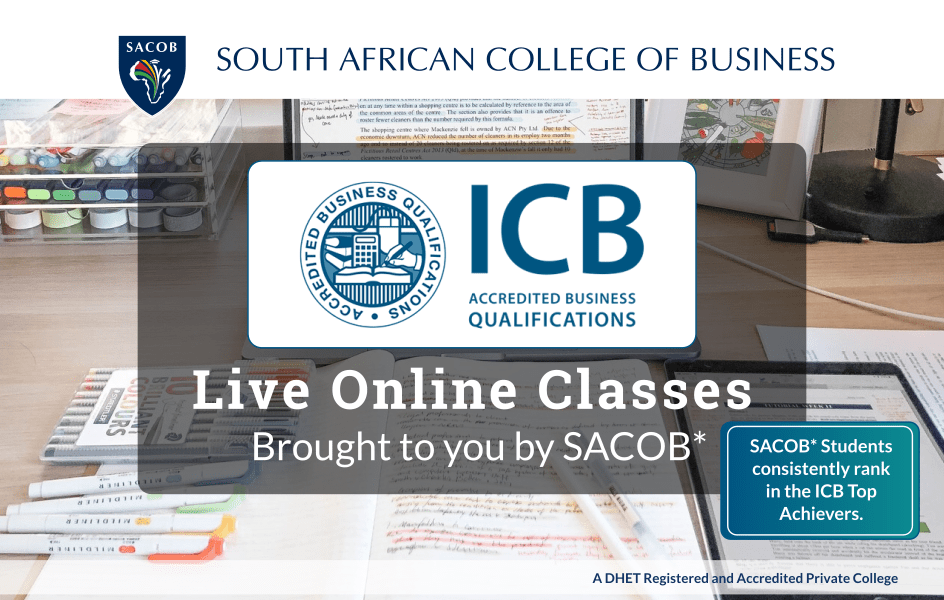 We at SACOB South African College of Business are
passionate
about Education, we believe strongly in the
importance
of Education and the
power
that Education can bring.
During a time like this, where everything is uncertain, where there are more questions than answers, we are faced with many different levels of stress…
Financial stress
You know that by educating and upskilling yourself you will put yourself ahead of the others. It will help make you that much more employable – it will either help you retain employment or give you the ability to seek new employment which will have a positive effect on your financial situation.
Mental stress
Our minds are powerful things – at a time like this it is important to stay focused and stay positive. If you have the means to study it will help keep your mind active and in the right frame of mind.
Time stress
Many of us are trying desperately to work from home all while having kids and partners at home too. So although you know you need to better yourself and enrol for your studies, how do you possibly fit studying in too? Online and via LIVE Saturday Classes.
Data and connectivity stress
You know all about studying from home and online but it means you need data and a computer to do so? We've got a solution for that too…keep reading.
SACOB South African College of Business want to offer you solutions to the above and some form of relief during this uncertain time.
What sort of relief?Our Face to Face classes are always well attended and a great success and although physically coming to class is not possible at the moment, we have spent time designing our SACOB Live Online Classes. This way we can ensure that the same face to face classes come to you instead AND at a reduced fee.

We have also thrown in a few added extras and benefits to our Home Study package if you feel that is best suited for you. Click here for more info on our Home Study package or chat to your Course Advisor for more info.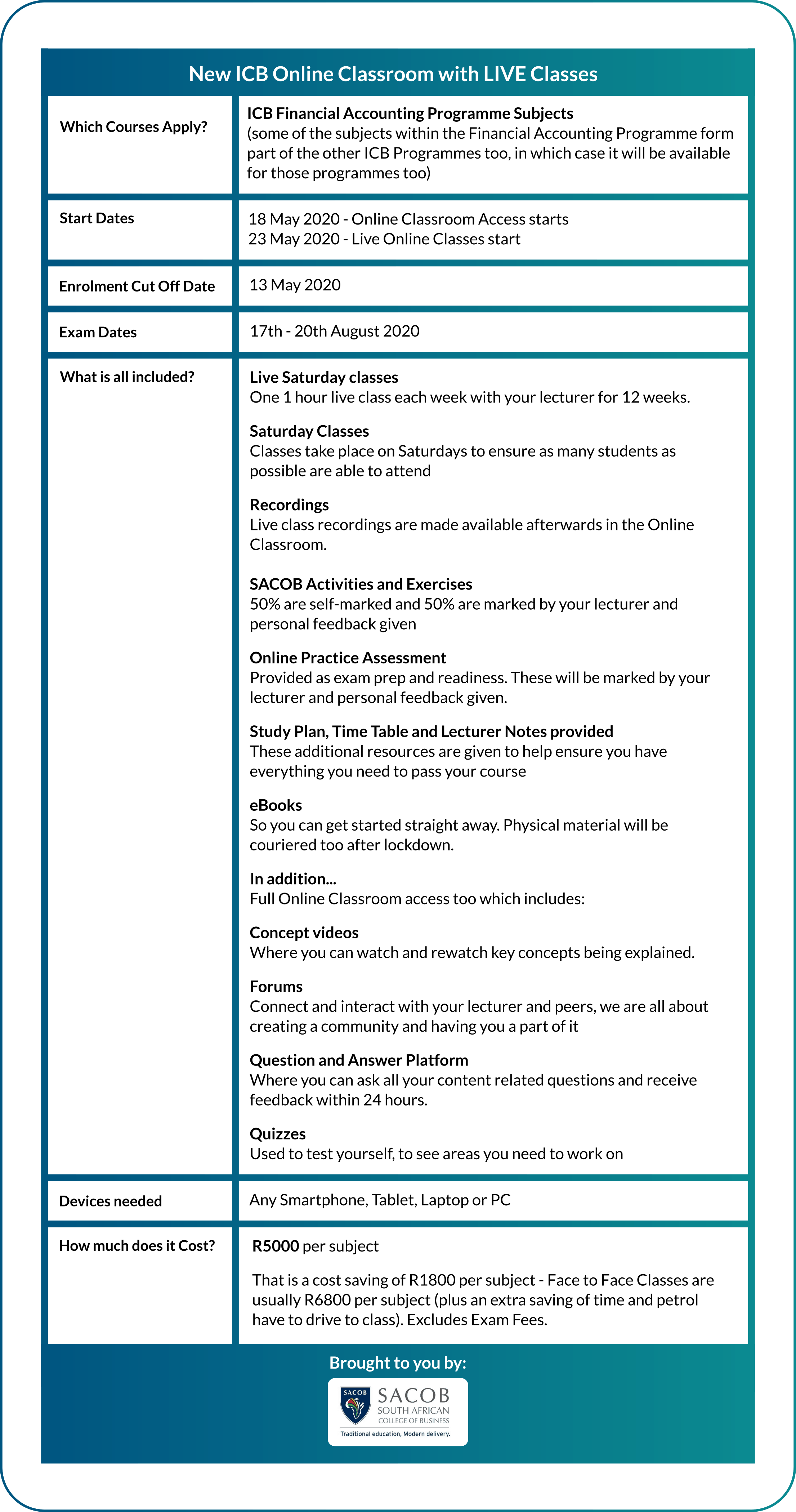 Important Notice:
As an added extra SACOB will provide each student 10 Gigs of Data when enrolling to help ensure you can attend the LIVE classes as well as make full use of the Online Classroom.
The finer details:
When:
Classes start 11 May 2020 Click here for the full timetable
Enrol between the 28th April 2020 – 8th May 2020

How to enrol to make use of the fees relief?
Step 1:
Create your SACOB – https://www.sacob.com/my-account/

Step 2:
Select which ICB subject you would like to enrol for (good news, you can enrol for more than one). Click on the subject and follow the below prompts from there.

Step 3:
Select the 11th May start date
Click add to basket and follow the checkout steps

How to make payment:
Online via our website – this is the quickest and easiest way
EFT
Debit Order: 50% Deposit (R2500) per subject to be paid between the 28th April – 8th May 2020 and the balance can be paid off over 3 months (R835 per month for 3 months).
Chat to your Course Advisor about a more personalized payment plan.
Banking details can be found on your invoice that will be automatically sent to you when enrolling.

Need more info or help enrolling? Contact your Course Advisor now by completing the contact form on the left hand side of the page.