THE ONLINE CLASSROOM OLC
Study your Course Online

About the Website
Welcome to the Online Classroom Website, this online classroom website enables distance learning students to complete their studies online via the internet and a supporting web browser. The SACOB Online Classroom is a Website that has all of your study support media uploaded to it or linked to external websites like Youtube and Vimeo where you can watch videos that help explain concepts from your course, Make sure you have online access to these video websites in order to be able to view your concept videos online through our Online Classroom website. Scroll to the pictures below to see the website. Not for use with SAGE, CFA, ACCA, or some CIMA Courses.
Please see this graphic explaining the differences between the institutions and the OLC.
The textbook, supplemented by the study and solution guide is your main source of information.  The videos,and online questions are an added option.
Take a tour
To see the Online Classroom Website click here.
See examples of our concept videos here.
Videos
Test your access here. If you can see the videos then you will have no problem seeing the videos on the online classroom website, in some cases videos are blocked by some offices, please check for connectivity and see if you can study while you work, using our online classroom website.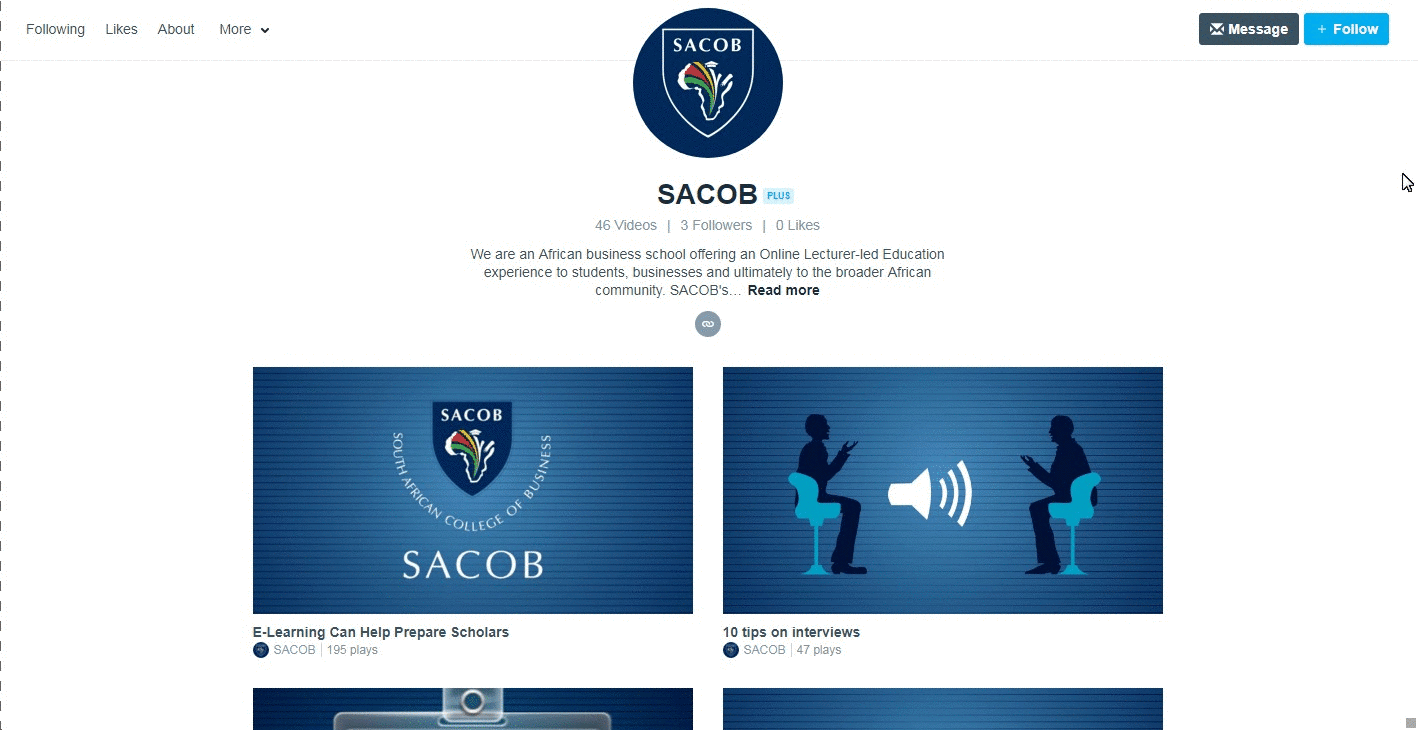 What we Offer
We offer an online classroom website that provides learning support through textbook guides, videos, separate activities and a correspondence lecturer that can mark your questions.
Online Distance learning opens up a world of opportunities in the SACOB Online Classroom ( OLC) Learning environment. Here you can complete your Distance studies Online.
About the Package
Registered Online Distance learning students have accounts in which their online distance learning courses are provided in their online classroom environment via their web browsers. This website basically helps you get through your entire textbook, having your textbooks while using the Online Classroom is essential, as the online textbook guide walks you through your textbook and tells you what to read and what activities to do.
This study package provides you with e-learning support to help navigate each subject. Work through your textbooks and participate in our online guide which includes short videos to work through tough concepts in your textbooks and then work through our quizzes to check your progress in each learning module. The online classroom can be accessed 24/7 via cellphone, tablet or laptop/PC.
When you buy the "Online Classroom Study Package" you can Access the SACOB Online Classroom Website from our main website SACOB.COM, you then click through to the LOGIN portal from your SACOB Student Account.  Click here for HOW TO LOGIN TO THE ONLINE CLASSROOM.
The Online Classroom Website can be accessed from any device that can access a webpage, whether it be a smart phone device, tablet, laptop or desktop PC.  This is how SACOB's Online Classroom appears in your Desktop/Laptop Browser. The Online Classroom can be seen below. Frequently asked Questions about the Online Classroom can be answered below. This is the Online Classroom Environment for your SACOB Online Course:
Please note: CIMA and ACCA course are not applicable for the Online Classroom Website Package as they make use of  the MyKaplan online portal.