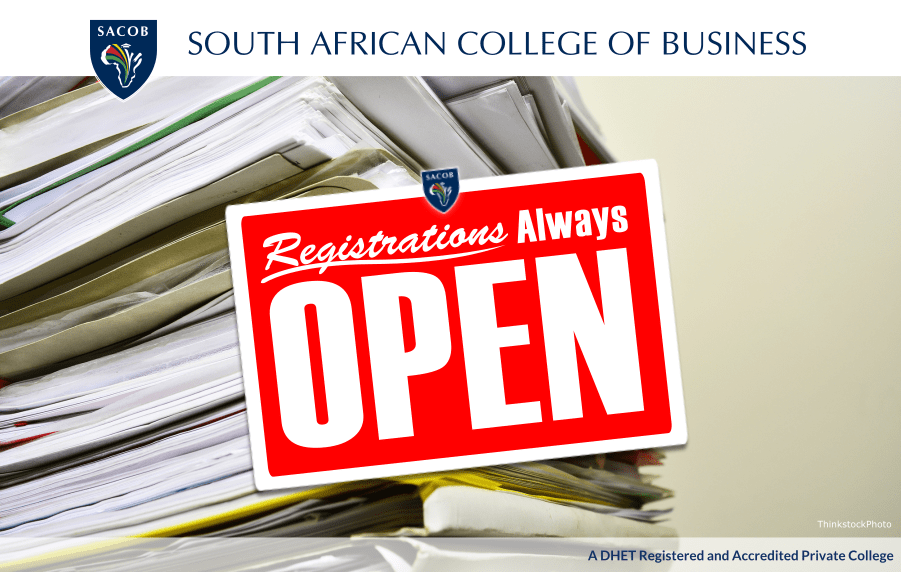 Are course registrations still open?
Yes! Our online applications are always open, all year round, all hours of the day, you can never be late registering at SACOB – South African College of Business.
Our Registrations are open all year round so we always accept new students and international students at any time in the year, register now, study later. We do not charge SACOB registration fees.

Let's get your future business studies started today!
Are college applications still open?
While some Colleges may have closed their doors to registrations, at SACOB the South African College of Business, our doors are always open for new applicants.
Are online enrollments still open?
Our online enrollments are still open even though most doors have closed, ours remain open. Enrol now and benefit from our wide range of courses in the field of business.
We never close enrollments!
Can I register late?
With the several months of the year down, there's no doubt a lot of panic coming from students who still wish to enrol for this year and think they can't.

The good news is that registrations are still open at SACOB!
Do you accept late registrations?
There is no such thing as late registrations at SACOB, you can register and enroll to study one of our online business courses at any time of the year at any time of day!
We are open for business!
Is there a late registration fee?
You can never be late for registration at SACOB, no long queues and waiting in line is a thing of the past, we are a fully online college and learning provider for business occupational diplomas.
We are always open you'll never be late for class again!
Is it too late to register to study?
It's never to late to start studying and registrations can be done at any time for any time. You can register this year to study next year, you can even register for a single course this year, a single subject next year and take the rest when you are ready even if it be in a few years time.
Register this year and study next year!
How do I register/apply to study online?
---
Just click the button below and fill out the registration form, make sure you email it back to one of our dedicated course advisors to get your future studies started!
---