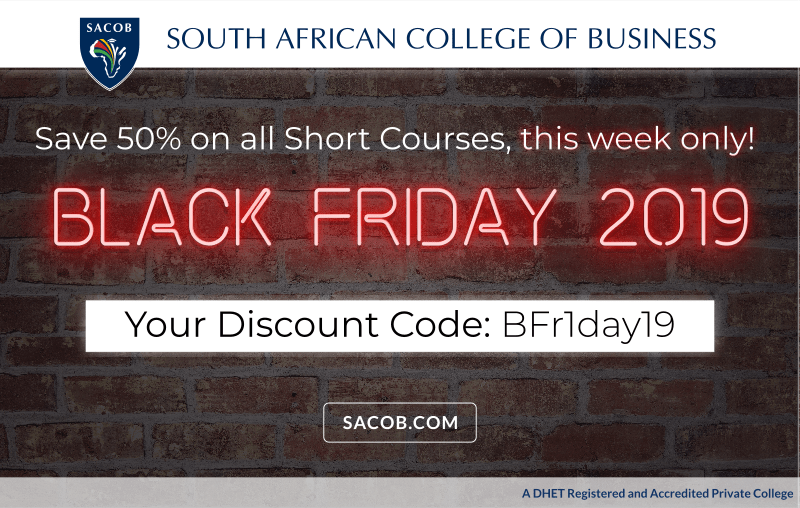 With Black Friday around the corner, every mailer we receive we open just in case it's announcing Black Friday specials…Well this is us letting you in on what we have in store this Black Friday. Over the last few years we've brought you 'Black Friday' the SACOB way…a precedent has been set and we at SACOB do not like to disappoint our students. ☺
---
What is the SACOB way?
Education of course. This Black Friday (week) it's all about how we can help you upskill yourself, how we can help you improve your knowledge, how we can help you increase your worth and make yourself that much more desirable in the workplace.
---
The finer details….
---
What?
SACOB Short Courses at only R2500 per course! That's more than 50% in savings.
The full enrollment fee is normally R5100, that's a R2600 saving.
Click here for a full list of the SACOB Short Courses on offer.
Ps. You can enrol for as many courses as you like 😉  Use the code below on checkout:

---
Why?
Short courses are a great way to upskill yourself in a short period of time. On average all you need is about 10 weeks and you will have the skill and knowledge in an area that you can either use to better yourself in the workplace or you can enjoy within a field you simply have an interest in.
Whether you are currently enrolled for a full qualification or nothing at all yet, with fees being this affordable it's easy to put education at the top of your necessity list this Black Friday. Enrol for a Short Course to supplement your current studies.
In fact many of our SACOB Short Courses are aligned to our qualifications…a stepping stone to the start of your qualification.
---
When?
Enrol between the 25th November and the 2nd December – these 7 days and these 7 days only.
Courses commence in Jan 2020.
---
Where?
On SACOB's website www.sacob.com
You'll need to create your student account by clicking on this link – https://www.sacob.com/my-account/ You can do this now already, ahead of time to avoid the rush.
From there, make your way to the course(s) – https://www.sacob.com/institution/sacob/ and enrol for as many courses as you'd like during the 7 days.
---
Payment Options?
– Directly online (quick, easy and safe)
– EFT us during the 7 days
– Debit Order – 50% deposit required and the balance paid off over 3 months. Chat to a course advisor for a personalized payment plan to suit your pocket.
Debit Order: 50% Deposit (R1275) to be paid on registration and the balance can be paid off over 3 months (R425 per month for 3 months)

---