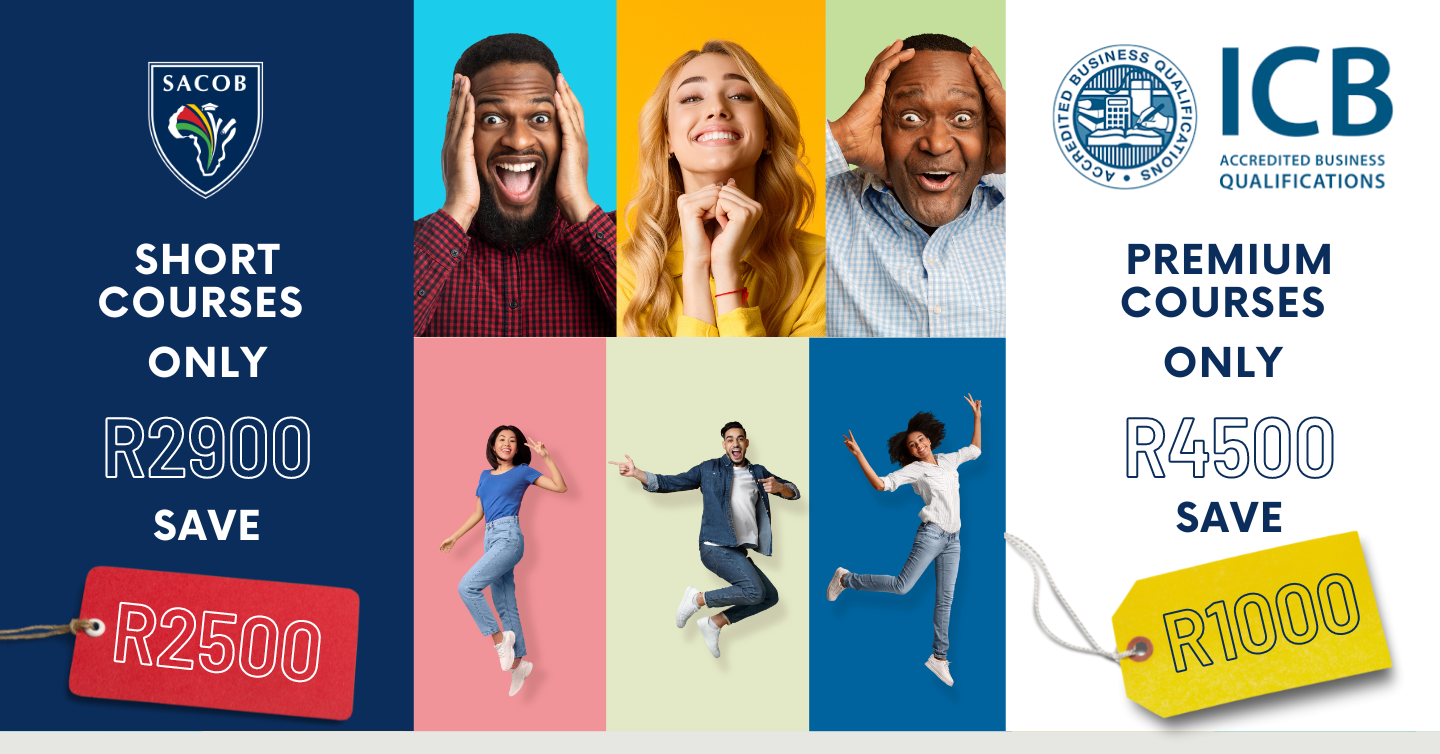 IT'S BLACK FRIDAY AT SACOB!
23 November – 30 November
"Education is the passport to the future, for tomorrow belongs to those who prepare for it today" – Malcolm X
SAVE R2500 ON ALL

SACOB Short Courses

 
SAVE R1000 ON ALL 

ICB Premium Courses
SAVE BIG ON ALL OF OUR SACOB SHORT COURSES (SAVE R2500)
ONLY R2900 (WAS R5400) PER COURSE 
Short Courses Include:
This includes all your textbooks.
Lecturer Support via Email and Telephone.
A Student Question and Answer Platform.
Lecturer/Concept videos where the key concepts are explain to you.
Quizzes and Assessments with feedback.
SACOB Student Forum where interactive discussions happen between your peers, lecturers and
course coordinators.
Here is a list of all of the Short Courses on offer: 
SAVE BIG ON ALL ICB PREMIUM COURSES (SAVE R1000)
ONLY R4500 (WAS R5500) PER COURSE
What is Online Premium?
Our Online Premium package provides students with only the best resources and experience. It's an all inclusive package that suits all learning styles – whether you prefer face to face, distance, live lectures or recorded lectures – no matter your style, SACOB has you covered.
Not only will students receive physical material but also LIVE classes where you can interact with your lecturer and other peers. It includes recordings of the class, just in case you are not able to make a specific date as well as quizzes, and mock exams.
SACOB students consistently rank on the ICB Top Achievers list which makes us believe even more that we have the recipe for success – we measure our success by our students achieving outstanding results and achieving their goals.
Premium ICB Courses Include:
– Textbooks
– Introduction Video
– Exam Info
– Q & A Platform
– Concept Videos
– Forums
– Exam Timetable
– Study Schedule
– Multiple Mock Exams & Solutions
– LIVE Classes – Where your lecturer takes you through all the concepts face to face via Zoom
– Recording of the LIVE Webinars
– Quizzes
– Exam Walkthrough (Pre-recorded)
List of all of the ICB Courses on offer:
Register Today and Save!