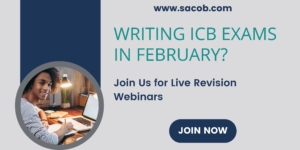 Writing ICB February Exams?
We are here to guide you through your exam preparations every step of the way!
Join the Live Revision Webinars starting 10 January 2022.
We will work through the course material of the exams, and you will have the opportunity to ask any questions you might have.
The cost is R500 to attend all 6 sessions.
Want to sign up? Click Here
Or
If you have any questions, need advice or would like additional information, please feel free to speak to one of our course advisors.